Can Aotearoa really be pest free?
My own view is that we should each do our bit regardless. The Good Nature Trap presentation we enjoyed the other night showed us one way to do so, but if you'd like more information, please follow this link: Can New Zealand really be pest free
---
Kevin Hackwell's 23rd September clubnight talk
What a great speaker and what a convincing argument for a predator-free Aotearoa!
An conservation activist since the age of 15, Kevin has been at the front line of the battle in such groups as Ecology Action. Committed to the cause, he graduated with an honours degree in ecology, and has helped to protect our remaining native forests from logging. He has also helped to establish our Nuclear-Free status, the Official Information Act, the MMP electoral system; and New Zealand's Smoke-Free Environments Act. He now is Group Manager Campaigns and Advocacy for Royal Forest and Bird Protection Society of New Zealand Inc.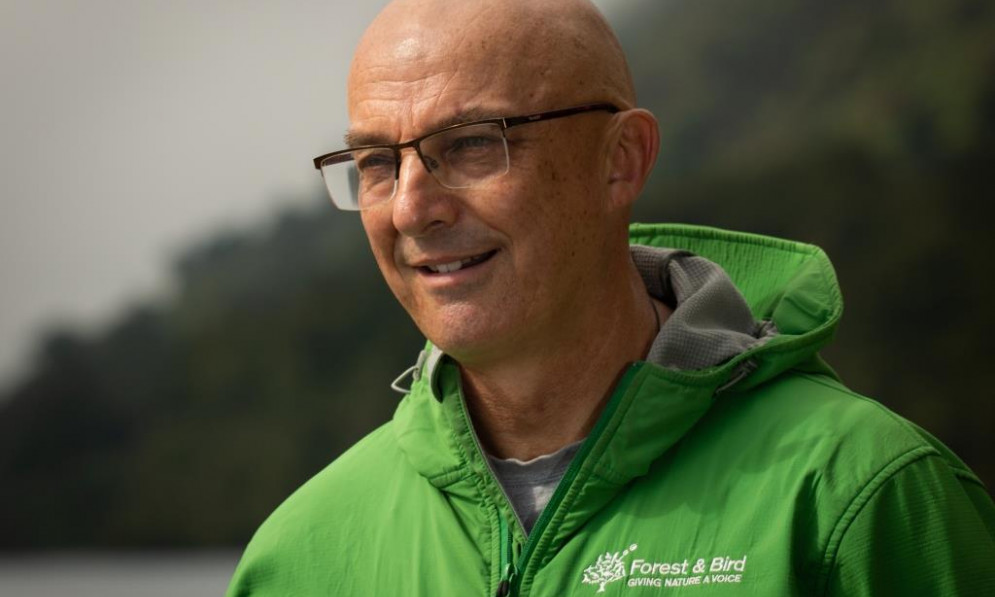 Using excellent slides, Kevin led us through the background history of introduced predators in Aotearoa, mentioning the roles of early Polynesian settlers and European pioneers, and the debate in the 1870s about the introduction of mustelids to control rabbits.
Kevin told us about the successes thus far in making some of our smaller islands free of mammalian predators. New Zealand (Forest & Bird and Don Merton) pioneered island rat eradications, and the first island rat eradication anywhere in the world occurred in 1960 on Maria (Ruapuke) Island in the Hauraki Gulf. Other projects include Campbell Island, Mayor Island (Tuhua), Little Barrier Island (Hauturu), and Raoul Island in the Kermadec Islands group. There are currently plans for tackling Steward Island's predator population.
Each decade since the 1960s, Kevin says, we have been increasing the size of island that we can make rat-free by a factor of 10. We have pretty good reason to believe that we can continue that 50 year trend - in which case we could seriously be looking at eradicating rats and other introduced predators from the mainland of Aotearoa by the middle of this century (if not before). Aerial baiting will be vital in this endeavour.
Kevin spoke in an informative and compelling way, and the time flew.
In the urban and city context, the technology for poisoning and trapping predators on a smaller scale is also constantly developing. Inventors are constantly coming up with new and better ways to deal with the killers of our birdlife.
As urban dwellers, we can do our bit:
put a bell on the family cat and keep it inside at night
install a rat trap or a bait station near the compost heap, or use a worm farm instead
support DoC's initatives in dealing with introduced predators in Aotearoa
download and implement the measures in the WCC Rats and Mice pamphlet
lobby our civic authorities about a coordinated approach to rodent eradication
---
Earlier posts
TTC Goodnature Traps
Our club has two CO2 powered Goodnature possum traps installed, one near Field Hut, and one near Cone Hut. When serviced this year, the unit near Cone had clearly fired many times as its gas cylinder was empty, whereas the unit near Field had been idle. This is good news as Field Hut is within the boundaries of Project Kaka. Clearly 1080 kills possums!
---
A Predator-free Aotearoa
You may have heard people speaking about a predator-free Aotearoa. Before the advent of human beings, Aotearoa had much more native forest cover and native birdlife than is now the case. Some of this remains in our National and Forest Parks; a remnant of what once covered the country.
More recently wildlife sanctuaries have been built. Once such is Zealandia, up between Highbury and Karori. Folk who live nearby have begun to see the visits of tui and kaka who fly over from the sanctuary to feed from native trees in suburban guardians.
Many of us now cultivate native plants in our gardens, but it doesn't have to end there; if we each did our bit much more of Aotearoa could have the flora and fauna that once flourished here. If we could reduce the numbers of mice, rats, stoats and possums in our land, the bird numbers would increase.
Would you like to know more?
Would you like to do something about it?
You could ...
1. Reduce the number of predators in your area
You could consider keeping a pet that is not a predator. What about keeping birds or installing a fishpond?
What about installing a re-setting trap to kill possums, or rats and stoats? Here's the "Goodnature" website.
If you're not in entire agreement with Morgan Foundation's call to do without a cat at home, how about giving it a present - a nice new bell on a stretchy collar?
For more information, here is the Wellington Regional Council pest animals page. There is a link for the Greater Wellington – Regional Pest Management Strategy.
2. Plant native fruit or nectar bearing trees
Here is some advice from the Department of Conservation: "Attracting Birds to Your Garden"
But bear in mind the possibility that the birds you invite into your garden might become prey for the neighbourhood felines. Cats are great company, and help to keep the rats and mice at bay, but they will go for ground-feeding birds.
3. Volunteer for one of the tree planting programs in your area